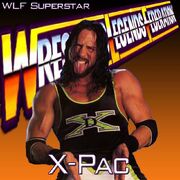 X-Pac is an American pro-wrestler currently assigned to the WLF. He has also gone by the name the 1-2-3 Kid.
He was been part of Nexus and the NWO.
He was forced out of the WLF on 18 March 2013 due to injuries at the hands of Omegal.
WLF Career
Edit
The Kid first made his debut in a dark match against Razor Ramon on 25 July 2011. He didn't wrestle in the WLF again until 15 Aug 2011 where he beat Triple H to qualify for a shot at the Intercontinental title at Summer Slam. However after the match Triple H attacked him with a sledge hammer which put the Kid out of action.
On 21st May 2012, the Kid returned to the WLF as X-Pac and was one of the first wrestlers to join the NWO.
On 4th of June 2012, X-Pac stole Owen Hart's "money in the bank" briefcase. 
On 18 March 2013 he was badly injured by Omega in the ring and it forced him into early retirement.
Notable Feuds
Edit
Owen Hart
2012-2013: Nexus619