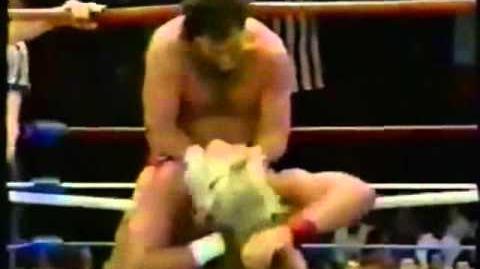 Tully Blanchard is an American pro-wrestler formerly contracted to the WLF and NWA. He is part of the tag team the Brain Busters with Arn Anderson and was also a member of the 4 Horsemen
WLF Career
Edit
Mysterious vignettes started airing on WLF programming in September 2011 themed around money, excellence and tradition. The final vignette came on the GekkoTron and interrupted both parties. The mystery will finally be revealed... the Four Horsemen had arrived in the WLF.
Tully Blanchard was the first member of the Four Horsemen to set foot in the WLF, promising to lead professional wrestling, not sports entertainment, back to its glory days. He wrestled his first match against Ricky the Dragon Steamboat on 3 Oct 2011
At Halloween Havoc 24 Oct 2011, he competed in War Games alongside his two fellow horsemen against Goldberg, Macho Man Randy Savage , the Red Rooster and Ricky the Dragon Steamboat. There was supposed to be a mystery horseman, horseman number 4. That horseman turned out to be the Dragon himself. The Dragon betrayed his team and joined the Horsemen, thus ensuring that the Horsemen won War Games.
After Survivor Series 2013, the Four Horsemen disbanded due to Ric Flair being forced out due to injuries. He did not return in the new year.
2011: Zoltan
2012-2013: Kevin7ee and then taken over by Frank Rizzo