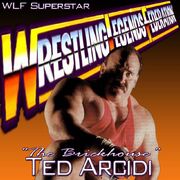 Ted Arcidi, or the Brickhouse as he is often called, is a former Olympic power lifter and former WLF Superstar.
He was managed by Classy Freddie Blassie and was previously a member of the Four Horsemen.
He was one of the first wrestlers to be signed to the WLF.
WLF History
Edit
Ted made his debut match, along with manager Freddie Blassie, on the very first Prime Time on 23 May 2011 when he took on Mr Perfect.
On 20th June 2011, Arcidi won a special 20 man Texas battle royale.
On 18 July 2011, Arcidi made an open challenge to anyone wanting to take him on in a bearhug challenge. The following week, fellow Olympic strong man Ken Patera took him up on his challenge however failed to defeat Arcidi. After the win, Big Poppa Pump, Scott Steiner appeared and issued a challenge to Arcidi
On 10 Oct 2011, Arcidi became the third member of the Four Horsemen when he joined Tully Blanchard and Barry Windham in an attack on the Macho Man Randy Savage.
At Halloween Havoc 24 Oct 2011, he competed in War Games alongside his two fellow horsemen against Goldberg, Macho Man Randy Savage , the Red Rooster and Ricky the Dragon Steamboat. There was supposed to be a mystery horseman, horseman number 4. That horseman turned out to be the Dragon himself. The Dragon betrayed his team and joined the Horsemen, thus ensuring that the Horsemen won War Games.
Leading up to Summer Slam 2012, Arcidi took place in a round robin tournament to determine who would battle it out in a Triple threat match for the vacant world title at Summer Slam. Ted finished at the top of his pool against the Rock, Goldberg and Hollywood Hogan, however he was not successful in winning the triple threat match.
In early 2013 Ted Arcidi departed from the WLF.
Notable Feuds
Edit
Ultimate Warrior
Big Poppa Pump Scott Steiner
Kane