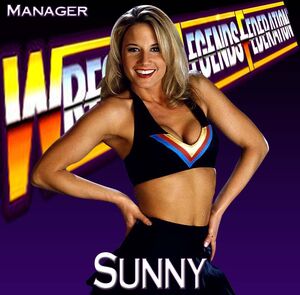 Sunny is an American Pro-wrestler who was at one time contracted to the WLF as a manager and is now a color comentator for diva's matches.
WLF Career
Edit
Sunny first appeared in the WLF on 19 Sept 2011, taking notes while watching a match between Maryse and Krystal Aos.
On 21 May 2012 she brought in Power and Glory into he WLF.
On 23 July 2012 she brought in the Gods of War
On 10 Sep 2012 she put in an application as the WLF's interim head booker after Pat Patterson was forced out due to injuries. Others applied for the position to, but in the end, the job went to Aunty Lil.
She disappeared from the WLF soon after, but returned in late 2013 as color commentator for divas matches.
Former Clients
Edit
Power & Glory (Hercules & Paul Roma)
Gods of War (Aries & Troy)
Collosal Kongs (Kharma & Bull Nakano)