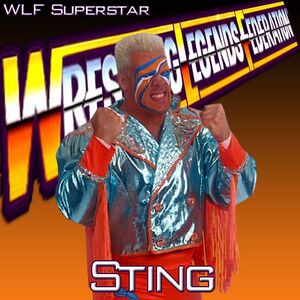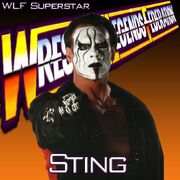 Sting is a former American pro-wrestler formerly contracted to the NWA.
He is a former member of the NWO.
Once tag teamed regularly with Lex Luger.
Former Tag team champion.
Former NWA world champion
WLF Career
Edit
Sting first appeared on the WLF on 18 July 2011 when he came to the rescue of the Ultimate Warrior after he was being ganged up on by Bryan Davidson, Sycho Sid and Ted Arcidi. The following week he wrestled his debut match, defeating Sycho Sid by count out.
Sting wrestled regularly from 18 July 2011 until 12 Sept 2011, when it was announced that he had to leave the WLF due to injuries.
He didn't appear in the WLF again until .6 Feb 2012 when he shocked everyone by aligning himself with Jake the Snake Roberts, taking on the Undertaker and the Macho Man in tag team competion. It was only a one-off match, but he again joined the WLF permantly on 21 May as a member of the NWO. He returned using his Crow gimmick.
In early 2013 he again changed his personal, this time back to his normal Sting persona. He started to tag team with Lex Luger on a regular basis.
On 13 May 2013 he, along with Lex beat the champs, the Mega Powers and the Dudes with Attitudes to win the WLF tag team championship, but lost it to the Legion of Doom in a triple threat match on 10 June 2013
He departed the WLF shortly after this but once again returned as dark Sting on 7 October, coming down from the rafters to interrupt the main event.
At the Royal Rumble 2014 he finally obtained singles gold when he won a 10 man Bunkhouse stampede cage match to become the NWA world champion.
At Wrestlemania on 28 April 2014, he lost the title to Jose DeJesus who had cashed in his Money in the Bank briefcase the week before, challenging Sting to a match at Mania.
After his loss at Wrestlemania, he decided to take time off wrestling.
Notable Feuds
Edit
Owen Hart
2011: DubyaCeeDubya
2012-2014: Nexus619