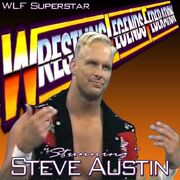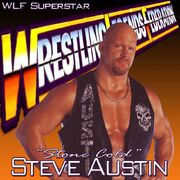 Steve Austin is a WLF superstar, one of the first wrestlers to sign to the WLF. He has gone under the name of Stunning Steve and Stone Cold Steve.
He was once managed by Jim Cornette and was a member of Camp Cornette and was a member of the NWO/Wolfpac.
He once tag teamed with Flyin' Bryan Pillman as "The Hollywood Blondes".
He was a member of the Expendables.
He was also signed to the NWA briefly
WLF Career
Edit
Steve Austin made his debut match on the very first Prime Time on 23 May 2011 under the name of Stone Cold Steve Austin. He went on to defeat the Living Legend Larry Zybysko in that match.
A week later he went on to win a battle royale, however on 20 June after losing a match to Bryan Davidson, he decided to leave the WLF and re-evaluate his career.
At Summer Slam 2011, Austin returned under the moniker Stunning Steve Austin. On an episode of Piper's Pit, he was introduced by Jim Cornette as the newest member of Camp Cornette. He then attacked Rowdy Roddy Piper.
Austin did not stay around long, but returned again on 4 June 2012 teamed with Flyin' Brian Pillman as the Hollywood Blondes. He was also announced as being part of the NWO.
On 1 Oct, NWO (now Wolfpac) leader Christopher Knight fired Austin  and Pillman from the Wolfpac, thus ending their career in the WLF. He returned at Halloween Havoc as part of a new super group of wrestlers who were fired from the NWO by Christopher Knight. That group was called the Expendables
He left the WLF in early 2013, making only the ocassional one off-appearances until May 2015 when he returned full time once again as Stunning Steve, winning a great victory against Steam Diesel Black and Bret the Hitman Hart.
2011: Perfectly Straightedge
2012-2013: Nexus619
It seems that in late 2011 and early 2014 two RPers were set to take on Austin. In 2011 someone was intending on playing him as Stunning Steve Austin, but Gordon Gekko ended up writing all his entrances. In 2014 someone signed up as him but never RPd.
2015: Jackspicer