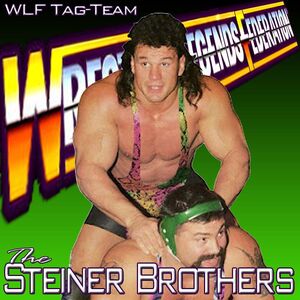 Rick and Scott Steiner are two American pro-wrestlers.
They were both members of the NWO Wolfpac.
WLF Career
Edit
Scott and Rick had both wrestled in the WLF in the past, although it was only ever Scott who was contracted as a permanent wrestlers. On 21st May 2012, both Steiners returned to the WLF as members n the NWO.
The had their debut match on the 28 May where they teamed up with Mr Perfect to take on Chris Jericho and the Hart Brothers.
They were fired from the WLF in early 2013 due to endangering other wrestlers with botched moves.
2012: Nexus619