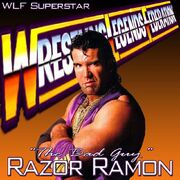 Scott Hall is a WLF superstar.
He never has been able to remain for long in the WLF without being fired for substance abuse.
WLF Career
Edit
He first appeared as Razor Ramon on 6 June 2011 when he came to the aid of Superstar Billy Graham who was being assaulted by the Brick House Ted Arcidi.
The following week on Prime Time he had his debut match when he teamed up with Stone Cold Steve Austin to take on Mr Perfect and Bryan Davidson
Razor continued to wrestle regularly in the WLF until 12 Sept 2011 when he lost to IRS. He then departed from the WLF. He then fell into alcoholism and even appeared on a Rowdy Roddy Piper vignette, drunk and in a very dishevelled state. On the 2nd April 2012, however he returned to the WLF clean and sober ready for action once more.
Not long after returning, he left once again after losing a match to Christopher Knight and fell into alcoholism again, but after a stint in rehab he felt ready to return to the WLF. On 12 Nov 2012, he returned, going by his real name. He immediately laid down a challenge to Big Daddy Cool Diesel, telling him he was wasting his talents tag teaming with a guy like Shawn Michaels.
His continued bout with alcoholism saw him once again disappear from the WLF, but he returned  at Wrestlemania 2 in April 2013, issuing a challenge to Damien Sandow. On 21 May 2013, he teamed with Jose DeJesus to take on Sandow and Perfect Pyles at Prime Time, but was fired a couple of weeks later when found enebriated in the men's rest rooms.
Hall cleaned himself up again and returned to the WLF as Razor Ramon where he joined Mr Kennedy and defeated Pedigree on Aug 26 at Summer Slam 2013, however when 2013 came to a close, he was once again fired for alcohol abuse.
Notable Feuds
Edit
June 2011: dermr.laidback
Aug 2011: kkbrody82
April 2012: ??  Booked in a match but never RPd
Nov 2012 - May 2013: Nexus619
Aug- Dec 2013: DojoBrother