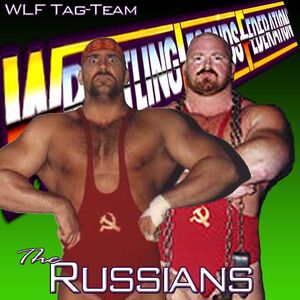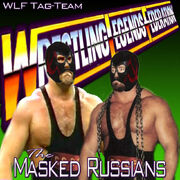 The Russians (Previously known as the Masked Russians) are a Russian tag team formerly contracted to the WLF.
They first started out in masks, but on July 2nd 2012 were revealed to be Vladimir Petrov and Nikita Koloff.
They are former 2x WLF Tag team champions and were managed by the Grand Wizard
They returned to Russia at the end of 2012, thus ending a very impressive WLF career.
WLF Career
Edit
The Masked Russians first appeared masked and led by the Grand Wizard on the 18 July 2011 episode of Prime Time. They brutally assaulted the WLF champions the Legion of Doom forcing them to vacate the tag team titles.s
At Survivor Series they won a classic elimination style event. They were soul survivors teaming with Edge and Christian, vs the British Bulldogs and the Demolition Express
On 23rd Jan 2012, the Masked Russians recieved a title shot against Demolition Express, however Andrew Darner was forced to sit out the match due to injuries, Danny B was instead joined by Sgt. Slaughter. A controversial finish led to Gordon Gekko declaring that the Demolition Express were still champions, and a final bout between the two teams would take place on the Janurary 30th episode. On the 30th, the Demolition Express was once again joined by Sgt. Slaughter in a six man tornado tag match, with the Masked Russians being joined by Ivan Koloff. The match ended with the Russians claiming victory and the titles.
On the 5th March, the Masked Russians first title reign ended when they lost to the Twin Towers.
At World War III on 2 July, the Masked Russians competed in a Three Way dance for the Tag Team Championships. The match also comprised of the champions: the Twin Towers and also the NWO's Brothers of Destruction. During the match the Big Boss Man pulled off the mask of one of the Russians revealing it to be Nkita Koloff. Due to his shock at seeing who it was, the Russians were able to pull off a victory and regain the WLF Tag team championships.
From then on the Masked Russians wrestled without their masks and called themselves simply the Russians.
The Russians were face with perhaps their biggest challenge yet at Summer Slam 2012. They had to defend their title in a 20 man tag team battle royale. They were unsuccessful at winning the battle royale, but were the last team eliminated. The Moondogs walked away with the WLF world tag team title.
Notable Feuds
Edit
Legion of Doom
Twin Towers
BrazodeOro