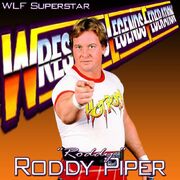 "Rowdy" Roddy Piper (born April 17, 1954 – July 31, 2015) was a pro wrestler from Scotland. He originally started off his WLF career as an interviewer with his own show Piper's Pit, but has also stepped back into the ring at various times.
WLF Career
Edit
Piper first appeared on Prime Time on 22 June 2011. He came out hurling insults at Tornado. Piper was interrupted by the masked Mr America who challenged Hot Rod to a special attraction USA versus Europe match at WLF Independence Day. He would not wrestle himself, so spent the remainder of the evening in search of a champion to battle Mr America, finally securing the services of Andre the Giant.  At Independece Day, in a Flag match, he took Andre's corner, while Kerry Von Erich took Mr America's corner. In the end it was Mr America who won the match.
Leading up to Halloween Havoc 2011, Roddy Piper goaded Mr Perfect with a series of vignettes, spoofs of Mr Perfect's original series of "absolutely perfect" vignettes. It resulted in Piper returning to active wrestlign and a match at Halloween Havoc.
On 24 Oct 2011 at Halloween Havoc, in his very first match in the WLF, Piper lost an "I'm a Slave 4 You match", which resulted in Piper having to be Mr Perfect's slave for 30 days.
During his time as Mr Perfect's slave there were rumours of him having an affair with Piper's wife Leonice.
On 5 Dec 2011 at  Survivor Series, Piper won an "I Quit – Career ending match" against Mr Perfect. It was later revealed that Piper was only pretending to have an affair with Leonice so as to get Mr Perfect to buck up his ideas and treat his wife better.
Roddy Piper went back to interviewing duties in early 2012, but returned to full time action again on 12 Nov 2012 defeating the Rock in one on one competition. However in early 2013 he once again retired from full time wrestling to go back into an intervewing role.
Roddy again returned to the WLF on a full time contract in Aug 2014, taking part in the 40 man gimmick battle royale.
Notable Feuds
Edit
Mr Perfect
2011: Recker
2012-2013: Vinny1979
Aug 2014-Now: Recker