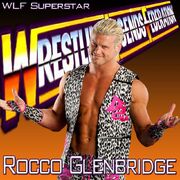 Rocco Glenbridge is an American pro-wrestler who was temporarily signed to the WLF.
He is a former Intercontinental champion.
He originally came to the WLF with Bob Backlund as his manager, but fired him on 13 August and took on Harley Race instead
WLF Career
Edit
Rocco made his debut on 28 May 2012 defeating Christopher Knight. He had Bob Backlund in his corner as his mananger.
On 30 July he defeated Bad News Brown to capture the WLF Intercontinental title.
On 13 August he fired Bob Backlund as his manager and took on Harley Race instead.
On 8 Oct 2012, Rocco was due to wrestle in a tag team match with Greg Valentine against Brutus the Barber Beefcake and Steven Regal, however decided to take a vacation in Hawaii instead. He had a replacement though. Doink the Clown.
At Halloween Havoc 2012, Rocco wrestled in a Towel match against Greg Valentine. Valentine won the match, thus ending Rocco's run as IC champion.
Rocco left to tour the circuits at the beginning of 2013 but chose not to return to the WLF. 
Notable Feuds
Edit
Dangerous Danny B
Bad News Brown