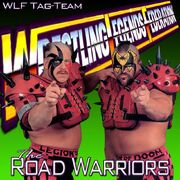 The Road Warriors are an American pro-wrestling tag team also known as the Legion of Doom.
They were one of the first tag teams contracted to the WLF and the first to capture the WLF Tag Team title. The have held the tag team title twice.
They were once part of the One Warrior Nation along with the Ultimate Warrior and Kerry Von Erich.
Managed by Paul Ellering
WLF Career
Edit
The Warriors made their WLF debut on Prime Time 13 June 2011 joing the Texas Tornado Kerry Von Erich in a six man tag match against the Twin Towers and Andre the Giant.
At the very first WLF Pay Per View - Independence Day, they won a 20 team battle royale to be the first team to capture the WLF Tag Team Title.
On 18 July 2011, during a "Body Shop" interview, the Warriors were ambushed by two masked men led by the Grand Wizard. These two men turned out to be the Masked Russians. The assault resulted in injuries to the Road Warriors which forced them to relinquish the tag team titles.
The Warriors were out for 2 months but returned refreshed on 26 Sept 2011 as the Legion of Doom and as part of the One Warrior Nation, however left again after Survivor Series along with all the other members of the OWN.
They made sparodic one-off appearances  during 2012, Once as surprise entrants in the World War III battle royale event on 2 July 2012 and also in the 20 team battle royale at Summer Slam.
They returned to full time competition on 12 Nov 2012 along with manager Paul Ellering
On 21 Jan they won a 10 team battle royale to become number one contenders for the Tag Team title. They eliminated the Moondogs last.
They captured the WLF tag team title for the second time when they won a triple threat match on 10 June 2013, defeating the champs Sting & Lex Luger. They lost the title 2 weeks later at World War III in a Texas Tornado match to Demolition
Shortly after they were fired from the WLF as a result of the WLF's wellness policy, but cleaned up their act and returned again, along with Paul Ellering,  in a more aggressive style to start out 2014. However by April 2014 they were once again gone from the WLF for the same reasons as before.
June 2011: wwflcassic80s90s
July 2011: wholefnjobber
2012-2013: Vinny1979
2014: Bigdawg224