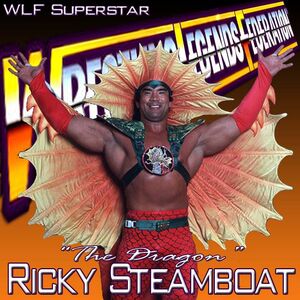 Ricky the Dragon Steamboat is an American pro-wrestler from Hawaii, formerly contracted to the WLF.
He is a former member and leader of the Four Horsemen before Barry Windham took over that role on the 23 April 2012.
WLF Career
Edit
He first appeared on Prime Time on 3rd Oct 2011 to do an interview, but he was interrupted by Tully Blanchard who challenged him to a match which he accepted. Later that night they battled it out, however Barry Windham interferred, costing Steamboat the match.
At Halloween Havoc 24 Oct 2011, he competed in War Games along with the Red Rooster,, Macho Man Randy Savage, Goldberg and Ricky the Dragon Steamboat vs the Four Horsemen. There was supposed to be a mystery horseman, horseman number 4. That horseman turned out to be the Dragon himself. The Dragon betrayed his team and joined the Horsemen, thus ensuring that the Horsemen won War Games. The Dragon turned out to be the LEADER of the Four Horsemen
On 12 March 2012, then champion Jake the Snake Roberts vacated the WLF Heavyweight Championship, prompting a 14-man tournament to crown the new champion. Jose DeJesus defeated three of the Four Horsemen en route to losing to Ted DiBiase in the finals. As a result of the losses, Steamboat's leadership is put in question.
On 23 April 2012 at WrestleMania, with Ric Flair as the special guest referee, Windham defeated Steamboat to usurp the reigns as undisputed leader of the Four Horsemen. Steamboat departed from the WLF soon after
He did not appear in the WLF again until Jan 20 2014 when he teamed up with Sting to take on the Road Warriors.
He left the WLF in mid 2015.
2011-2012: Zoltan
2014: Vinny1979