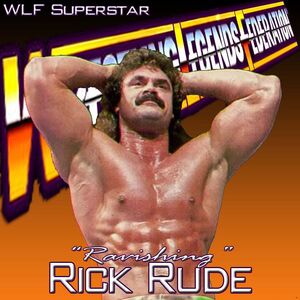 Rick Rude is an American pro-wrestler contracted to the WLF.
He is currently a member of the Million Dollar Corporation.
WLF Career
Edit
Rick Rude made his first appearance very breifly on the 6 June 2011 to announced Sycho Sid as Bryan Davidson's new bodyguard and mystery tag team partner. Many believed he was going to be the mystery tag team partner himself, but it was simply a tease.
Rick Rude again made a brief appearance in the WLF on 27 June 2011, taking Razor Ramon's corner in his match against Sycho Sid.
Rude finally made his wrestling debut on 25 July 2011 in a 6-way ladder match, however did not stay in the WLF for long.
He was not seen again until a year later when he appeared on Prime Time 20 July 2012. He immediately challenged the NWA champion Barry Windham to a match, however Windham had to fight other members of the Horsemen first. He finally got his title shot against Windham on 27 August 2012 at Summer Slam but was forced to run the gauntlet against all members of the Four Horsemen, including the Nature Boy Ric Flair. He was not successful in capturing the title.
He returned to the WLF on Jan 13 2014 joining fellow NWA members in a match against the Million Dollar Corporation. It turned out that he was secretly working for the Corporation and turned on his tag team partners becoming the newest member of the Corp.
Notable Feuds
Edit
The Four Horsemen
2011: dermr.laidback
2012: RoccoGB
2014: Vinny1979