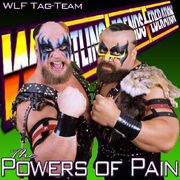 The Powers of Pain are an American tag team.
The Warlord and the Barbarian
Formerly managed by Mr Fuji
They are former WLF tag team champions
WLF Career
Edit
The Powers of Pain have appeared in the WLF at Wrestlemania 2012 where they took part in a 10 man mixed tag team match.
On 25 June 2012, they wrestled a one off match against the Hart Brothers, but lost.
On 22 Sept 2014, they were granted a full time contract with the WLF, being introduced as members of Jake the Snake Robert's Ministry.
On 26 Jan 2015, they become the new WLF tag team champions in a special match against the Sheild.
The lost the title to the Rougeau Brothers on 23 Feb 2015 at the Royal Rumble and were promptly booted out of the Ministry (and thus the WLF) by Jake Roberts.