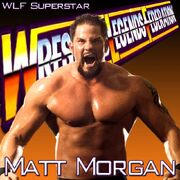 Matt Morgan is an American professional wrestler currently signed with the WLF. He debuted on the January 28th 2013 episode of WLF Prime Time, after being introduced by his manager Vince Russo. Morgan's first match took place on February 4th airing of Prime Time, with a victory over Curly of the Three Stooges.
He is currently managed by Mr Fuji
WLF Career
Edit
Matt Morgan started his WLF career as the "insurance policy" of Vince Russo. Russo has used Matt to systematically defeat what he calls "freaks and geeks" that are "ruining the WLF." Morgan's first match was against Curly of the Three Stooges. Matt made an impressive display of over powering his opponent. The following week, Morgan was placed in a handicap match against the Osirian Portal, a tag team from the CHIKARA federation. Even with the interfernece of Delirious from CHIKARA, Morgan emphatically defeated Amasis and Ophidian.
Morgan competed in the 2013 Royal Rumble, eliminating a record 7  men before being eliminated himself by Hulk Hogan.
He departed from the WLF after Wrestlemania II, but returned (under the tutorage of Mr Fui) again as a mystery opponent for Bret the Hitman Hart on Prime Time 22 June 2015
In Wrestling
Edit
Finishing Moves
Carbon Footprint (running big boot)
Former Manager:
Current Manager:
Chiliman96b (2013 to now)