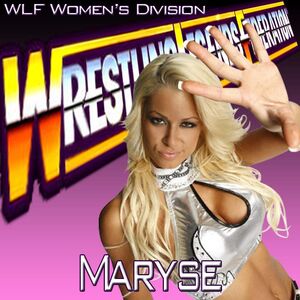 Maryse is a pro-wrestling diva who once wrestled for the WLF. She was romantically linked to the Macho Man Randy Savage.
Section heading
Edit
On July 18 2011, the Macho Man introduced Maryse to the WLF as his new sweetheart. The following week she made her wrestling debut in a mixed tag team match with the Macho Man and Mr Perfect against the New Age Outlaws and Chyna. She was pinned by Chyna.
On 3rd Oct 2011, both Maryse and Krystal Aos were assaulted back stage by a mystery assailant. They were both carried out of the arena on stretchers. The mystery assailant was later revealed as Mickie James who had joined the Divas division.
On 6 February Maryse was kidnapped by Jake the Snake Roberts, but the following week turned up to Prime Time unharmed. Roberts berated the Macho Man Randy Savage for what he saw as the sin of lust. His kidnapping of Maryse was to make a point.
Maryse was supposed to take part in the 8 woman diva's battle royale to determine the new WLF woman's champion after the title was vacated by Nasty Girl due to injuries. However Maryse did not show. She did appear later on in the card during the triple threat match for the WLF world championship when her interference cost Randy Savage the WLF world title. 
Maryse did not appear int he WLF again until Survivor Series 2012, when she turned up in the middle of the Macho Man's match. Savage won the match and they had a joyful reunion in the middle of the ring.
Maryse returned in mind 2015 to active competition.
Zoltan 2011-2012