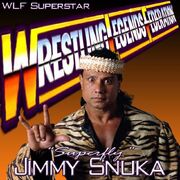 The "Superfly" is a former WLF superstar. He appeared on the very first episode of Prime Time..
WLF Career
Edit
Snuka made his debut match on the very first Prime Time on 23 May 2011 in a match against William Regal. During that match Regal sprayed fly spray into the Superfly's eyes. Although Snuka won the match by disqualification, damage was done to his eye sight, which forced him to retire two weeks later.
On 8 April 2013, Snuka was cleared to wrestle and returned to the WLF with the ultimate goal to compete in the Wrestlemania 2 Invitational Battle royale, the winner of which was gauranteed a full time contract with the WLF. He appeared on Prime Time to wrestle a match against newcomer Damien Sandow, however Sandow refused to wrestle him, claiming that he was an inferior opponent. He was unsuccessful at winning the Wrestlemania battle royale.
In late 2013 Snuka once again obtained a full time contract and came back to get some revenge on William Regal. Although he had some moderate success, he was not around for long and his contract was not renewed for 2014.
2011: ?
2013: Vinny1979