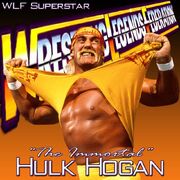 Hulk Hogan is an Amerian Pro-wrestler apparently. He is currently signed to the WLF.
He has tag team champion with the Macho Man Randy Savage as the Mega Bucks and captured the WLF tag team championship.
He was also at one point the leader of the New World Order calling himself Hollywood Hogan.
WLF Career
Edit
Hulk Hogan first appeared in the WLF on Pipers Pit on 27 June 2011. He interrupted the show dressed in a mask and calling himself Mr America. He challenged Rowdy Roddy Piper to a USA vs Europe match at Independence Day. Piper was not willing to wrestle him however and decided to find another wrestler to take Mr America on. That wrestler turned out to be Andre the Giant. A week later at Independence Day Mr America won the match.
Two weeks later on 18 July 2011, he was back in the WLF as Hulk Hogan to see his friend the Macho Man. However he was assaulted by the 9th wonder of the World Chyna and the New Age Outlaws who were making their return to the WLF. He was out of action for nearly a month, but returned on 8 August looking for revenge against the Outlaws.
Hogan continued to wrestler sparodically over the next 6 months but returned full time in April 2012, bringing with him the NWO.
On 10th Sept 2012, Christopher Knight usurped Hogan's role as leader of the NWO and had him fired and beaten up. Knight declared that the NWO was now the Wolfpac.
Despite being fired from the NWO, on the 22 Oct 2012 as Halloween Havoc, Hogan returned to the WLF, no longer calling himself Hollywood Hogan. He was back to get revenge on Christopher Knight.
On 22 April 2013  he, along with the Macho Man Randy Savage won the WLF tag team championship by defeating Harlem Heat in the finals of the tag team tournament for the vacant title, however lost the title a week later at Prime Time in a Triple Threat match to Sting and Lex Luger
In Mid 2013 he was suspended from the WLF but returned as the mystery partner for Ric Flair to defeated the Mega Bucks on 11 Nov 2013.
Notable Feuds
Edit
Kurt Angle
Bad News Brown
2011: wwfclassic80s90s
2012: Nexus619
2013: Frank Rizzo
2014: Vinny1979