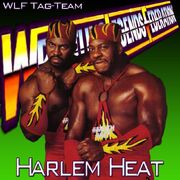 The Harlem Heat is an American professional wrestling tag team, made up of Booker T and Stevie Ray.
They were managed by Vince Russo
WLF Career
Edit
They debuted on the Feb. 11th 2013 episode of Prime Time, attacking Delirious, a member of CHIKARA, during Matt Morgan's handicap match. They had their very first match a week later at the Royal Rumble where they defeated the Colony (from CHIKARA)
On 22 April 2013 at Wrestlemania II, they made it to the finals of the tag team tournament for the vacant title. They were defeated by the Mega Powers, however they absconded with the title belts after the match.
After refusing to return the belts they were fired from the WLF, along with their manager Vince Russo.
Chiliman96b 2013