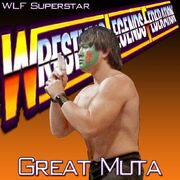 The Great Muta is a pro wrestler currently contracted to the WLF.
He is currently managed by Gary Hart
He was managed by Christopher Walken
Was a former unofficial member of the Million Dollar Corporation.
He is a former NWA TV champion
He currently tag teams with Chessman as J-Mex Corporation
WLF Career
Edit
The Great Muta made his WLF debut on the 8 August 2011, defeating Ravishing Rick Rude, but left to wrestle in Japan around Oct 2011
He did not return again until 8th of July 2013 when he was introduced by manager Christopher Walkin as the newest member of his stable. That same evening he competed in a six man tag match along with the Family Unit and defeated the Shield.
The relationship between the Corporation and the Family Unit soured and came to an end on 16 Sept 2013 when after a berating from DiBiase on the Family Unit's poor showing at Summer Slam, Walken revealed that he had been skimming funds (legally) from Corporation bank accounts. He then officially seperated his unit from the Corporation..
On 10 March 2014, Muta took part in a controversial Fatal-4-Way match where new WLF president Christopher Walken (Muta's manager) created stipulations which made it almost impossible for Muta's opponents to win. The NWA TV title was up for grabs, then held by Lord Steven Regal. Muta won the match when he pinned Gangrel to become the TV champion.
On 26 May 2014 Muta lost the NWA TV title in a triple threat match against the Pharaoh and the Rock after he was pinned by the Pharoah. His manager and temporary president Christopher Walken promptly fired him.
In June 2015 he was rehired by the WLF and returned under the tutelage of Gary Hart, along with Chessman as the J-Mex Corporation.
2011: kkbrody82
2013-2014: Frank Rizzo
2015: BrazodeOro