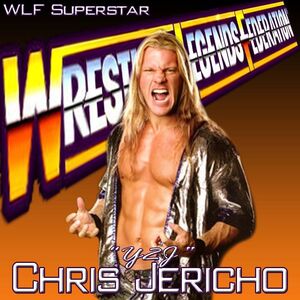 Chris Jericho is a Canadian pro wrestler from Calgary Alberta.
Former leader of the Expendables super group.
He is a former NWA TV champion (formerly known as the X Division title)
WLF Career
Edit
Jericho first appeared in the WLF on 12 Sept 2011. The next week on Prime Time he had his debut match, defeating the Great Muta
He disappeared from the WLF in late 2011 but returned again on 26 March 2012
On 5th Nov 2012, Jericho revealed himself to be the leader of the Expendables.
He disappeared from the WLF for a while, but returned in June 2013 refreshed and was almost immediately granted an X Division title shot against Goldust, which he won, thus acheiving his first taste of gold in the WLF. The title was during his reign renamed the NWA TV title.
On 26 August 2013 at Summer Slam Jericho lost the TV title to Goldust in a triple threat match which also included Kurt Angle.
Shortly after Summer Slam he left the WLF, but returned again on 3 June 2014. He wasn't around for long though before he was injured and had to leave once again.
Notable Feuds
Edit
Undertaker
2011: CHAZmaniac
2012-2014: Nexus619