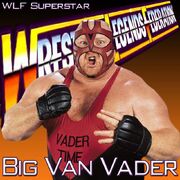 Big Van Vader is an American pro-wrestler currently contracted to the WLF.
WLF Career
Edit
Vader made ocassional one-off appearances in the WLF until signing a full time contract on 26 March 2012 when he made his debut in a match agait the Undertaker in which he got disqualified. He was only in the WLF for a short while before his contract was terminated due to biting the ear off a jobber on WLF Superstars.
He then went to Japan to wrestle, but returned briefly on 10 June 2013 as a mystery man to team with Jeff Jarrett against Davey Boy Smith and Lord Steven Regal. After a couple of matches in the USA he then returned to Japan.
Vader again returned in June 2014, this time as Robert DeNiro's champion at World War III to compete for ownership of the WLF. He also competed in the World War III battle royale. 
Notable feuds:
Edit
2012: theJaww13
2014: bdm640