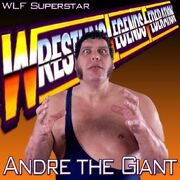 Andre the Giant is a French pro-wrestler, one of the first to be signed with the WLF. He began his career managed by Bobby the Brain Heenan and teamed with Ted DiBiase as the Mega Bucks.
He is a former member of the Million Dollar Corporation
He is also a former member of the NWO
He was also part of the tag team BIG (Biggest Immense Giants) along with the Big Show.
Currently tag teams with Ted DiBiase as the Mega Bucks
Current co-holder of the WLF tag team championship.
WLF Career
Edit
Andre made his debut match on the very first Prime Time on 23 May 2011 teaming with Ted DiBiase against the Hart Brothers. They were successful at beating the Harts after a distraction from manager Bobby Heenan.
Late 2011, Andre departed ways with the WLF but reappeared again on 12 March 2012 in the corner of the Macho Man Randy Savage in his match against Ted DiBiase. It was presumed that Andre was there because he was miffed that DiBiase had not invited him back as part of the Million Dollar Corporation.
He was not seen again unti the 28th May 2012 when he came in as the newest member of the NWO. On 4 June he began tag teaming with Big Show as BIG
In March 2013, he once again departed the WLF due to injuries, however in Sept 2013 mysterious promotions aired of a returning superstar, each week showing a different wonder of the world. Andre returned 14 October and wrestled in a 6 man tag team match at Halloween Havoc a week later.
On 4 Nov 2013, Andre shocked the fans by aligning himself with Ted DiBiase as his new bodyguard. He once again became part of the Million Dollar Corporation.
In early 2015 he and Ted DiBiase reformed the Mega Bucks tag team and at Wrestlemania IV defeated 5 tag teams in a row. However they did not get a title shot until 10 July 2015 at World War III where they defeated champions Vaudevillains/Bushwhackers & Cryme Tyme to become the new WLF tag team champions.
Notable Feuds
Edit
Diesel
Undertaker
2011: Zoltan
2012- Mar 2013: Nexus619
Nov 2013-now: Recker