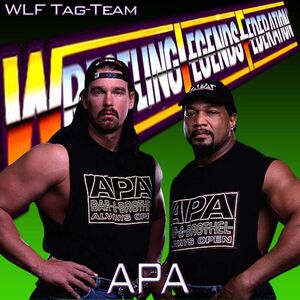 APA is a tag team involving Farooq and Justin Hawk Bradshaw, managed by Nasty Girl. They are former WLF Tag Team champions.
They were contracted to the WLF until late 2011
WLF Career
Edit
They first appeared on Prime Time along with Nasty Girl on 25 July 2011. They then appeared again at Summer Slam when they interrupted the post match celebrations of new tag team champions Bruiser Brodie and Stan Hanson. On 19 Sept they defeated Brodie and Hanson to capture the WLF Tag Team title.
On 24 Oct 2011 at Halloween Havoc, APA lost their title in a four team TLC match to the Demolition Express.
Shortly after that they left the WLF, but did return one more time as surprise entrants in the World War III battle royale event on 2 July 2012
APA were not seen in the WLF again until 3 Feb 2014 when they came to ringside with Diva's champion LIta and double crossed her during her match costing her the WLF Diva's championship.
Notable Feuds
Edit
Bruiser Brodie and Stan Hanson.
2011: Outsider111